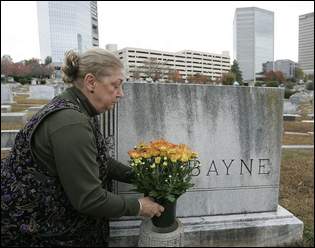 Remembering: Barbara Bayne, a representative of Friends of Springwood Cemetery, places flowers at the grave marker of her relatives. Bayne said she was pleased by the historical designation for Springwood and Richland.
PATRICK COLLARD/Staff
Local cemeteries' historic significance set in stone
Richland, Springwood graveyards placed on historic places register

Posted Thursday, November 17, 2005 - 6:00 am
The Greenville News

By Lorando D. Lockhart
STAFF WRITER
llockhart@greenvillenews.com


The first cemetery for blacks in Greenville County and a cemetery that's the final resting place for a number of Greenville pioneers are now officially pieces of local history.
Last month, Richland and Springwood cemeteries were placed on the National Register of Historic Places.
On Wednesday, families of those buried in the two cemeteries and those who have worked to protect them joined city officials in a brief ceremony at Greenville City Hall marking the National Register achievement.
Winifred A. Lykes, president of the Friends of Richland Cemetery, said he's proud of the cemetery's historic status.
"We have so many prominent citizens buried there," Lykes said. "Restoring and making historical reference to that area is very important to me. For so many years, we have been forgotten, and this is a part of the city of Greenville."
Edna Lowe said she has a family member buried at Richland and tries to attend all meetings held by the board.
"I think it's a great thing because moving from Philadelphia to Greenville, we used to go over to Richland all the time," Lowe said. "I didn't know so many people were buried there that I had met at one time. A lot of my friends have family members who are over there."
Brad Sauls, a spokesman for the state Department of Archives and History, said having the two cemeteries placed on the register encourages future generations to want to learn more about Greenville history.
"The extraordinary and ordinary people who rest in these cemeteries were once part of the life of this city and helped create what it is today," Sauls said.
Sauls also presented plaques to members of both cemetery boards to signify their inclusion in a group of more than 1,300 historic places in South Carolina.
Richland Cemetery, which is located at Fern Street and Oakwood Avenue, was established in January 1884 as the first local municipal cemetery for blacks in Greenville County.
The cemetery features a variety of art and cultural artifacts, which provide information about ethnic burial customs in the South.
The cemetery has four sections and includes the graves of William Sewell, builder of Sterling High School and S.C. Franks Mortuary, and Hattie Logan Duckett, founder of the Phillis Wheatley Center.
The cemetery is the resting place for more than 1,400 documented grave sites and sits on about six acres.
Springwood Cemetery, which is located at 410 N. Main Street, was first used as a burial ground in 1812. The site was opened for public burial in 1829 and became a planned landscape in 1876.
The cemetery is significant as the burial place for many early Greenville pioneers and contains more than 10,000 graves. Elizabeth Blackburn Williams, who died in 1812, was the first person buried in Springwood Cemetery.
Barbara Bayne, who represents Friends of Springwood Cemetery, was especially proud of the historical designations for both cemeteries.
"I just think it's a wonderful thing for Greenville and for the people it represents," Bayne said. "I feel like it's the coming together of two souls, hearts and minds of Greenville."